My rating: 6 of 5 stars
People who are meant to be together find their way back. They may take a few detours, but they're never lost.
I LOVE SECOND-CHANCE ROMANCES SOOO MUCH! These love stories are my absolute favorites!!! Soul mates who have always loved each other are granted a do-over…another chance. There is no greater love like second-chance love, this special love that finds its way back to two broken souls, this special love that summons the soul…MY SOUL. Second-chance romances speak to my soul like no other love story, and oh did Nova by Rebeca Yarros speak to mine. Nova, the spellbinding and spine-tingling second-chance romance, was my heart…my soul…MY KRYPTONITE.
This heart-pounding and heartwarming romance claimed my heart from the start. My heart caught fire, a slow burn seeping into my soul, as Nova bled into me…becoming me. My emotions were amplified as I was ON EDGE, entangled around every part of Nova as this soul-searing story embedded itself into every part of me. A fusion of hope, heartbreak, and happiness swirled around in my head like a tsunami waiting to collide. My feels flooded all over this book…ALL OVER ME.
These characters claimed me, captivated me, and catapulted me into their lives. I lived this dare-devil adventure through these compelling characters…through Nova. I wanted to free-fall off a cliff into the sea, climb the tallest mountains, and float away with The Renegades crew…with Nova.
Landon 'Nova' Rhodes with his dark blond hair, green-blue-hazel eyes, ink, and body of a Greek God is fast and furious, a dare devil who snowboards like he owns the mountains. This professional snowboarder collect X Games medals like they are candy, and oh is he melt-worthy! Landon may be Casonova to the women who he conquers like those tall mountains, but only one woman has conquered his heart, and will forever hold his heart in her hands: Rachel.
Rachel Dawson, beautiful and petite with dark hair and dark eyes, gave her heart away to who she thought was the love of her life, until he shattered it to smithereens and never looked back. Landon Rhodes, oh how she wished she could get the supernova out of her head and heart. When Rachel lands on the ship where The Renegades, the X-Games competitors, are filming, Landon is more determined than ever to reclaim the woman who has always been his. 

Does she still hate me? I hope so. I deserved it. Lord knew I hated myself enough for the both of us. The problem with love was that once it was gone, there was no filing that hole, no substitute for that euphoria.
These words BROKE ME…so hopeless and heartbreaking. 

"You're like a supernova – an explosion so bright no one can see past you."
Now he was Casanova…and no longer mine.
I felt Rachel's pain through the pages, oh was it heart-wrenching.

She could try to ignore me all she wanted, but somewhere under all that hatred and ice, she was still my Rachel….I just had to find a way to break through to her.
From beginning to end, oh did Landon POSSESS ME!!! This amazing alpha made me swoon and smolder. This man is pure perfection. Nova is PURE PERFECTION. I was owned by Landon. I WAS OWNED by Nova.

"You win this round. But I'll win the war."
My feels were at war, emotions rearing up to battle, as they threatened to explode…all over this soulful story…all over me. 

"That Rachel – the silly eighteen-year-old you said was your infinity – you killed her."
Those heart-wrenching words hit my heart hard, a sword to my chest, as I felt the hurt everywhere.
"I loved you. I broke myself…You and I are inevitable, no matter who we hurt – even if it's each other."
I broke as I bled for both the hero and the heroine. Two broken souls who should be one. I had to catch my tears as I willed them not to fall. Tears that teased the dam of waterworks waiting to burst from the words that clutched my soul, extracting every emotion. Beckoning me. Binding me. Becoming me.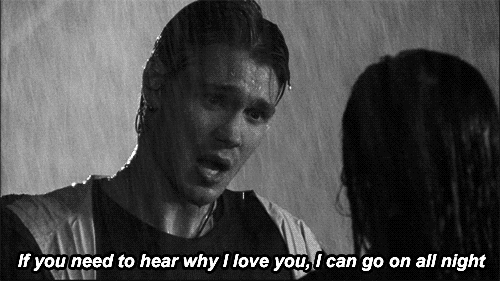 "Rachel, don't look at me like that."

"Like what?"

"Like you used to."

Swoon collided with soreness, hurt fused with hope. The pain turned into promise as I melted all over pages, warmth seeping into my heart that was bleeding. Words of sweetness and nostalgia kissed me where I felt butterflies dancing in my belly, a feeling of hope, happiness, and freedom fused with love.

His mouth find mine, and I was home.

"It didn't mean anything. The kiss."

"Maybe to you."

"To you?"

"Everything."
My heart was hit so hard, it spun right into my soul. These words SHOOK MY SOUL!!!
Rachel and Landon are each other's air. Each other's heart. Each other's hope. Each other's salvation. Rachel is almost ready to take that leap again, no longer caring if she falls for she knows that Landon will catch her and keep her this time. 

In seconds she had rebuilt her walls that had taken me months to break down, and once again it was me who sliced her to the quick.
The painful past brings smoke, which causes Rachel and Landon to veer off course, possibly sending them into a collision where their rekindled love may crash and burn. Oh how these two broken hearts needed to be whole…one again. 

"You're it. You've always been it."
This line is EVERYTHING!!!
This explosive, emotional, and epic second-chance love story is EVERYTHING!!! I was ENRAPTURED with Nova This story held my heart in its hands from the start…hijacking it…hijacking me. I LOVED NOVA SO MUCH!!!
Nova is devastatingly beautiful and perfectly poignant, an explosion of emotions that penetrate the heart and soul. Oh did Nova a penetrate me EVERYWHERE! I was a prisoner to these passionate pages that pounded that passion straight through me. I was broken. I was breathless. I was branded. I became everything Nova.
This spellbinding and spine-tingling story surged through me like lightning where its touch was felt everywhere. OH THE FEELS!!! My feels were free-falling through this story. I felt every word I read in Nova where I rode this roller coaster of a romance, the adrenaline and angst coursing through me like a rush of wind…fast and furiously. I FELT EVERYTHING.
Nova is not simply a broken and beautiful romance; it's a story about LIFE AND LIVING. It's about taking that LEAP OF FAITH…LIVING FOR THE MOMENT…LIVING LIFE NOW. Rebecca Yarros is one of my favorite authors because you can feel her emotions through her wondrous words. EVERY WORD MATTERS that Rebecca Yarros writes: magical, meaningful, sweet, spirited, and soulful…just like her.
Every day is a new beginning. A chance to love. A chance to live. A chance to dream. A chance to do! We live through our actions. We live through our memories. Sometimes we live through stories. I lived and loved through Nova where I went on the emotional adventure of a lifetime—one of hope, heartbreak, and happiness. Nova, this beautiful and broken love story, will stay with me…to infinity and beyond.
★★★★★★ infinity and beyond stars
The only heart he wants is the one he already broke…
He's Landon Rhodes.
The Renegade they call Nova.
Sinfully gorgeous, broody, tatted-up, professional snowboarder.
Four-time X Games medalist—
Full-time heartbreaker.
They say a girl broke him once—
That's why he's so reckless, so driven, so careless with his conquests.
But I'm that girl.
They can call me his curse all they want.
He and I both know the truth—
He's the one who destroyed me,
And I'm not the sucker who will let that happen again.
***NOVA can be read as a standalone***
Amazon –> http://amzn.to/2lDfzAu
iBooks –> http://apple.co/2kHgz26
Web: http://www.bookaliciousbabes.com
Facebook: http://www.facebook.com/bookaliciousb…
Twitter: http://www.twitter.com/bookaliciousbb
Instagram: http://www.instagram.com/bookaliciousbb